Updated February 2020
TOP HOLIDAY DESTINATION WITH ACTIVITIES TO SUIT EVERYONE
Cape Town is a place that has just about everything you want out of a holiday destination and then some. It reminds me so much of Australia with the benefit of it being half the distance from London. The laid back cafe culture, fantastic food, endless outdoor activities, the wine, the cocktail bars, you name it, Cape Town has got it.
Fun Fact: Like Australia's capital Canberra, not many people know that Cape Town is the legislative capital of South Africa.
I first visited in February 2018 and again in January 2019 and most recently November 2019. It's safe to say this is my favourite holiday destination, and is the very reason it features as my first destination article for this blog.
Please comment and tell me what you think. Enjoy.
FLY
Cape Town is well served by many International carriers across Europe, Middle East, Asia and by the end of 2019, the USA will also be flying there.
British Airways sends down 3 flights a day from London in addition to the 3 flights they also fly down to Johannesburg in peak season. This makes Cape Town really accessible both directly and indirectly. Flying via Johannesburg, you can easily connect with all full service and low-cost domestic airlines to Cape Town. As well as from other regional locations.
Going via Johannesburg is my preference vs flying direct from London, as Cape Town always end up getting the oldest planes BA still have because they have a monopoly on the route and see it as a tourist route so don't invest in an excellent hard product. This is less convenient for sure, but a lot more comfortable than flying 8 hours to the Gulf and then another 10 hrs to Cape Town. That said, I will be doing the Gulf route back home from South Africa to try Etihad's First Class Apartments later this year. So there are always pro's and cons for the way you choose to go.
A neat trick I've used often when flying with BA to my destinations is to book as a BA holiday either adding Car Hire or Hotels included with your flights. This will usually work out cheaper than the flight on its own, and you can pay with just a deposit. This enables you to spread the cost over a more extended time with no credit card interest.
CAR HIRE
I'd recommend getting a car while you are here. Wherever you stay, be it an Airbnb or a hotel, parking is usually provided or comes at a minimal charge. While it's safe to walk around within the vicinity of where you are staying moving area to area, eg. Waterfront to Camps Bay, you're going to want to drive. It will also give you the freedom to see Cape Town and the surrounding areas at your own pace. Remember to keep in mind that the city and its attractions are quite spread out, and public transport while available, might be slower, busier and with several changes to get to your destination, making it rather inconvenient, especially when you have a lot to see in a short amount of time.
MYCITI BUS
The MyCiti bus network is clean and modern with regular routes throughout the city. Great for Solo/Couple travellers on a budget. Fares vary by distance travelled, and you must pay using the MyCiti card which you can get and top up from various bus stops and retailers throughout the city. It's worth noting that if you buy your travel card when you first arrive at the airport, you will be charged considerably compared if you were to buy it elsewhere.
Example peak standard fare from Waterfront to Camps Bay is R17.60 ( approx £1) by comparison an Uber is R80-R100 (approx £4-£5.50). So if you are in a group, the bus may not be the best option. For an extra R10 for a group of 4, a journey of 20 mins vs 50 mins on the bus, the Uber seems to be the better option.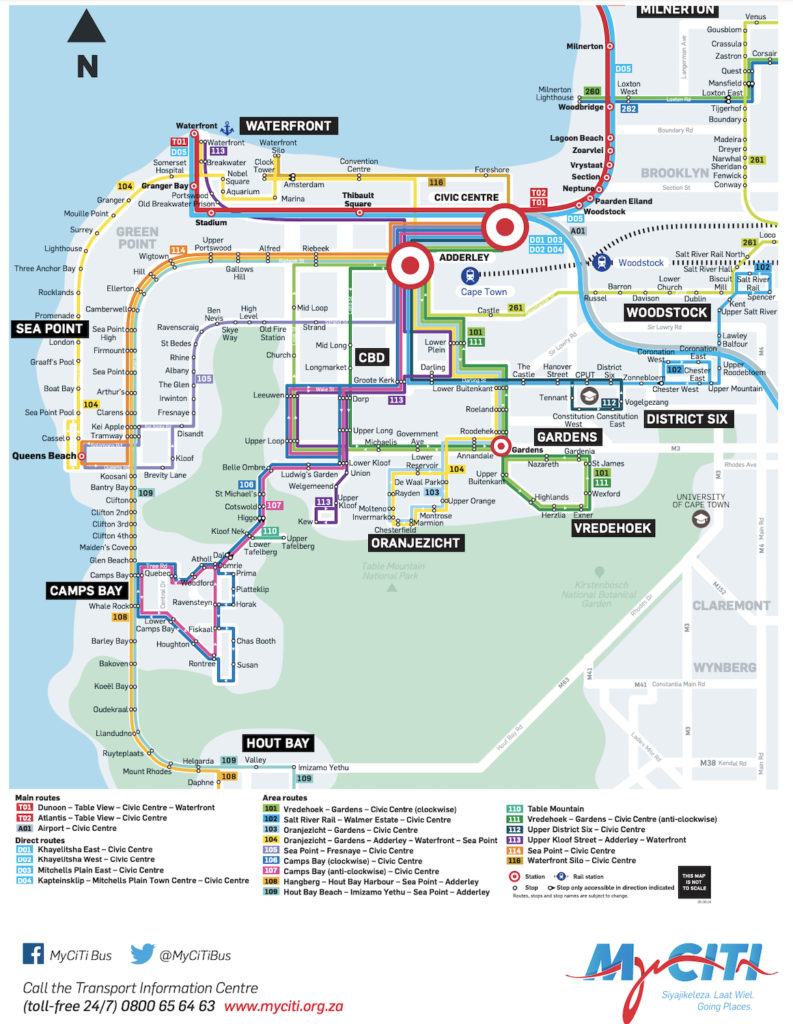 UBER
Uber is cheap and everywhere. The main reason I would recommend Uber vs local taxi is there is no need for cash. It's billed to your account the same way it is back home. It's especially handy when travelling to countries where you can't speak the language. Luckily for Cape Town, you won't have that problem.
We used Ubers mostly when not using your hire car, for example, if we were going out for dinner and drinks with friends. We would use an Uber to arrive and get back to the hotel.

Example Fares:
Uber Black: City Centre Hotel to Airport – R316 (approx £17)
Uber X: Waterfront to Bree Street – R26 (approx £1.50)
WALK
Walking around various areas during the day is fine. Even at night as long as you stick to areas around the Waterfront or the Esplanade in Camps Bay. However, walking from area to area is not safe, for example walking from Kloof St down to the Waterfront through the City late at night. It's not worth the risk, just get an Uber.
I personally have walked from the City Centre in the Bree St area down to the Waterfront at night, and while I was fine, there were a few moments it didn't feel safe. It's just a fact, people do get mugged. It's just something you have to be aware of. Would you instead spend £1.50 on an Uber and get there safe or potentially lose your phone, watch, jewellery etc.? Don't risk it.
Cape Town is safe, just use the same common sense as you would in any other big city. Avoid darkly lit/quiet streets, never walk alone and just don't do it, especially if you have been drinking.
Whether it's an Airbnb or a hotel, there are places in Cape Town to cover all budgets.
I can only personally comment on the hotels, and Airbnb's that I've stayed in or my local friend can recommend, so this section will aim to give you details on the areas you want to look depending on the vibe you are looking for.
CAMPS BAY
Stunning villas with million dollar sea views. Camps Bay is popular with wealthy ex-pats with property prices equal to that of London and Los Angeles, there are a few hotels but where you really want to stay, is one of those multi-million dollar villas with private pool and views that will make everyone home green with envy.
CITY CENTRE
The Main City Centre has a wide selection of hotel options of varying quality. Great for close access to some fantastic restaurants and bars along Bree St and nearby Kloof St. I've stayed at the following:
Located at the Convention Centre, we stayed here in a recently refurbished family room. This was at the recommendation of the General Manager instead of a suite which was still in the old style and not yet renovated.
The Westin provides a frequent shuttle service between the hotel and the Waterfront. This is very handy at night where it's not recommended to walk between the hotel and the waterfront.
As a Marriott Bonvoy Ambassador member, I was entitled to access the Westin Club, which is on the top floor providing incredible views of cape town and the waterfront. It's great to come up here just before sunset and enjoy a sundowner. Oddly they charge for some breakfast items here, so I would recommend having your breakfast on the ground floor, which has a broader selection.
The Hilton is close to nearby restaurants on Bree St. and the colourful streets or Bo Kapp The rooms are comfortable and modern. Ask to stay on the poolside where you will be less disturbed by the call to pray from the cape town mosque across the road.
DE WATERKANT
Residential area with a collection of high spec uniquely designed homes.
A small village vibe, with many cafes, restaurants and several gay bars and clubs.
We stayed in an Airbnb plus property here which was absolutely incredible. It included a rooftop pool and a tree growing up through the centre of the property. The only possible negative people may have with some of these design properties is their "openness". For example, in our Airbnb the showers were exposed to the street, while somewhat shaded, you could see people walking past as you took a shower which is something that takes a little getting used to. So if you're a bit sensitive and like your privates to be kept private perhaps find another property.
SEAPOINT
Great cafes and restaurants with long stretching Promenade up to Green Point.
There are several hotels and Airbnb's in this area, great location with great views of Lions Head and close proximity to Clifton beaches.
I have booked an Airbnb in Seapoint for my next trip to Cape Town. Here you will find high quality more significant places for bigger groups at a much cheaper rate to say Camps Bay or Waterkant.
WATERFRONT
The V&A Waterfront has some of the most expensive hotels in Cape Town. If you have the budget and enjoy having everything at your doorstep while on holiday, consider one of the top hotels here.
The Silo is definitely on my bucket list, but starting at $1500 a night, I can think of some other experiences that will stretch my money much further.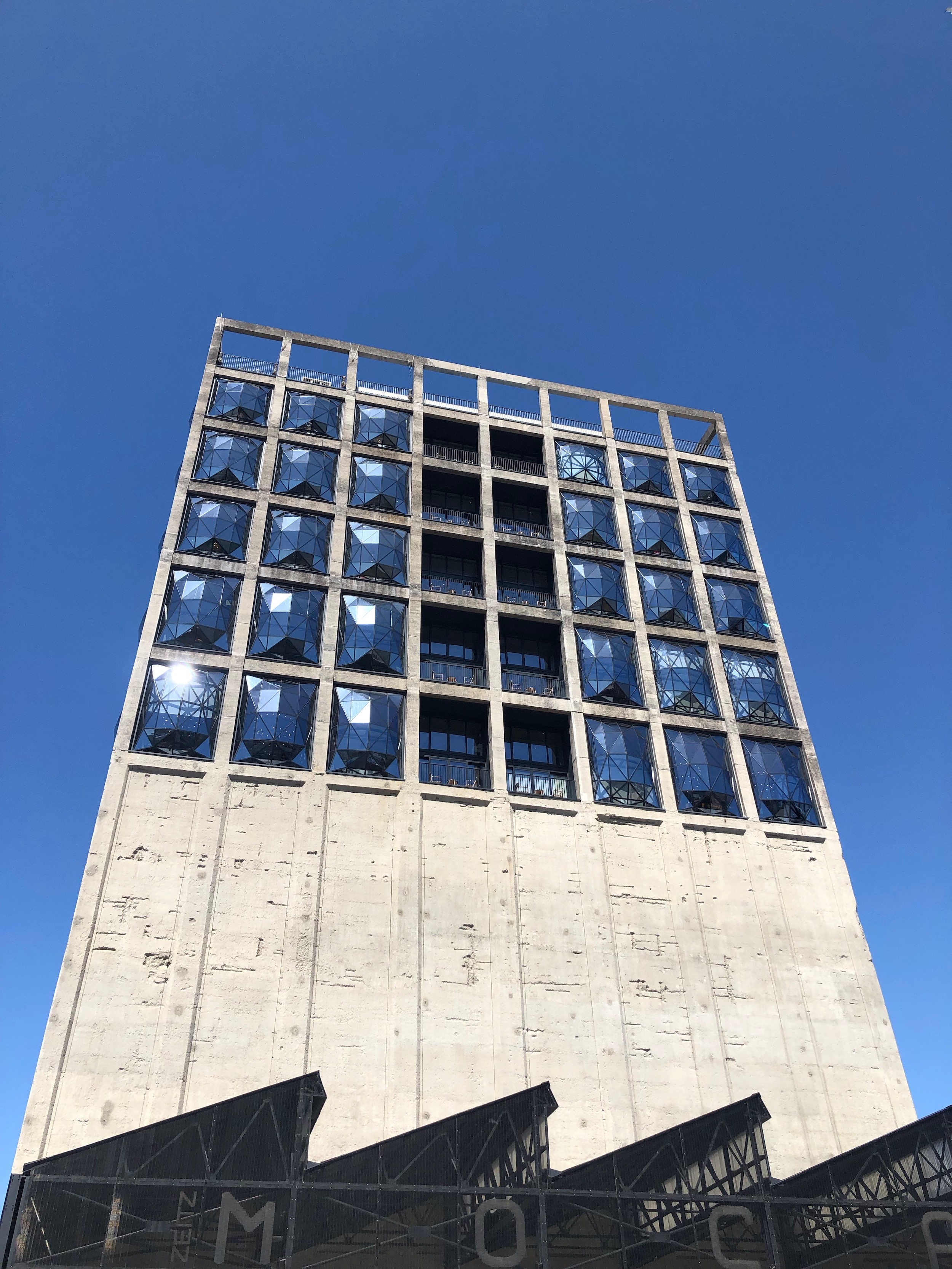 Cape Town has a vast number of affordable restaurants and bars as well as a few of the top restaurants in the world. That serves the most incredibly fresh food. Here is a selection of the places that I tried on my trips to Cape Town.
BREAKFAST/BRUNCH
Having visited their larger Seapoint location and smaller CBD location, both places delivered a consistent product. This is an excellent place for some smashed avo and a flat white or a hearty lunch. Great Coffee and tasty food menu for an affordable price.
Tashas has a chic Los Angeles/Santa Monica vibe. I have only been for brunch at their Waterfront branch, which does not disappoint. They also offer a Varied Lunch menu that includes tapas and pasta along with sandwiches and other more substantial dishes. Service is good and the food excellent for a pretty large chain.
There is an ongoing debate in which coffee shop serves the best coffee in Cape Town. While others say Truth Coffee is best, my vote goes to Bootlegger.
LUNCH/DINNER
Laid back, the eclectic atmosphere in a darkly lit victorian house with incredible bar and a lovely courtyard garden. Excellent food at affordable prices Menu changes regularly, I enjoyed the calamari as a starter and meatballs and mash as the main, which was a special at the time.
Must Try: Chilli and Garlic Prawns
Sea Breeze is where you'll fall in love with Seafood again. Having not been a fish eater for 10+ years, I was convinced to come here and try what they had to offer. Very hesitant at first I was contemplating defecting to Bacon on Bree (sadly now closed) a few doors down. But with some encouraging words, I ordered the hake and chips which did not disappoint, The fish was tender and fresh and didn't have that "fishy" taste that put me off seafood originally.
Must Try: Hake Ceviche, Grilled Prawns Starter
La Prada is a Tapas request with a large selection of delicious options. Great for a leisurely cheap lunch or dinner in a modern setting while exploring Cape Town. My favourite location is at Constantia Nek, with a large deck it's great to enjoy lunch in the sun while enjoying a glass of wine or a beer with lunch.
Must Try: Beef Short Rib, Fried Calamari and Ham Croquetas
Great Steaks and Excellent Wine.
Salad, Steak and Chips is the centrepiece of the menu, with a selection of locally sourced or imported sirloin cuts. If you're feeling brave, try the aptly named "challenge" a 1kg Tomahawk with all the sides and a 3/4L of Beer to help you wash it down.
Must Try: Steak!
Move over Test Kitchen, Fyn with their incredible Japanese inspired Kaiseki menu and wine flight is a gastronomic experience that you must try when in Cape Town! A beautifully designed restaurant located on the top floor of a building in the CBD. Must Visit!
DRINKS/BARS
The Secret Gin Bar is tucked into a courtyard behind a chocolate shop. Follow the simple Chalkboard sign out the front that directs you to The Gin bar, through the chocolate shop.
A simple menu of gin-based cocktails for any mood or palate, speak to the bar staff for a recommendation which feels more like a counselling session (but in a good way)
Must Try: Ambition
As well as a great restaurant, KSH has a fantastic bar with some fabulous cocktails perfect for a pre or post dinner drink.
Must Try: Your Perfect G&T
Red Roof – Radisson Red Waterfront
Perfect for a sundowner with amazing views of table mountain and Lion Head, be sure to get here early so you can grab a good seat.
Must Try: Turned on? Try me
OUT OF TOWN
Perfect for stopping in for a coffee or some lunch after doing the Chapmans Peak drive en route to the Penguins in Simons Town and Cape of Good Hope. Large selection of sellers here, we stopped in at the Foodbarn Deli and grabbed a tasty salad.
Must Try: Lyonnaise Salad
Having done the Wine Tram and explored Franschhoek. If you are there on a Friday, stop by La Paris for dinner where the menu changes weekly. Otherwise, visit for brunch/lunch any other day for a meal that is made from locally sourced fresh ingredients.
Must Try: Passion Breeze G&T
There is so just much to see and do in and around Cape Town, it's impossible to list everything, so I've whittled down the top things that I have personally experienced which I would 100% do again.
Hiking up Lion's Head is a great way to spend your morning and one of the first things you should do upon arriving. Start early to avoid the crowds and score a car park close to the start point. The hike takes about an hour and a half, be sure to take plenty of water, but if you forget there is a coffee truck at the start point where you can grab some. Be careful especially closer to the top where you will use a series of ladders and chains to reach the peak.
Paragliding is something I've always wanted to do but finding the location to do it has always been a struggle. Cape Town has the perfect scenery to do it. But you will need to be flexible. We were initially booked on a particular day, but it got cancelled 3 times because the wind wasn't right. But with patience and flexibility, this experience was worth the wait and anticipation. Prices are R1300 + R300 for photos and video.
Just before sunset drive up Camps Bay Drive and wait for a beautiful sunset over the Atlantic.

Kirstenbosch National Botanical Garden is considered one of the best in the world, there are many different gardens spread through the park, including a Tree Canopy Walkway. There is also a route to hike up to the top of Table Mountain via the Skeleton Gorge Route. You must pay the entrance fee to the Kirstenbosch to access it though but gives you a lovely perspective climbing up the back way in a rainforest-like environment.
Whether you choose to climb table mountain via one of its many routes or get the cable car, you won't be disappointed.
I suggest 2 itineraries that allow you to do 2 things in half a day, 1 of those being going up Table Mountain.
Option 1: In the morning hike Lions Head and then make your way the short distance from the start point over to the lower cable car station and take that up. A return ticket can be purchased online or at the stations.
Difficulty: Medium
Cost: R330 per adult + parking fees
Option 2: Spend the morning exploring the Kirstenbosch gardens and then from the park hike up the Skeleton Gorge to the top of Table Mountain. You can then get the cable car back down, keep in mind this option you will need to either get Uber's to and from your drop off and pick up locations, or you will need to hike back down to Kirstenbosch to pick up your car.
Difficulty: Hard
Cost: R70-R260 per adult depending on if you take the cable car down or not
Weather can change dramatically, so dress appropriately.
Atlantic Outlook is a great little company located in a car park in the V&A Waterfront. They provide 2-hour Kayak tours leaving from the Waterfront giving a fantastic view of Cape Town and the chance to encounter Dolphins, seals, penguins, Sunfish and occasionally whales. Prices are R400 per person.
Chapmans Peak Drive/Penguins/Cape of Good Hope
The quintessential Cape Town road trip.
Take a leisurely drive down the coast to the Cape of Good Hope, the most southwesterly point of the African Continent. Along the way, you'll want to drive along the picturesque Chapmans Peak drive, explore the biggest beach you've ever seen in your life, say hello to some African Penguins and avoid the Baboons and other wildlife as you reach the Cape of Good Hope.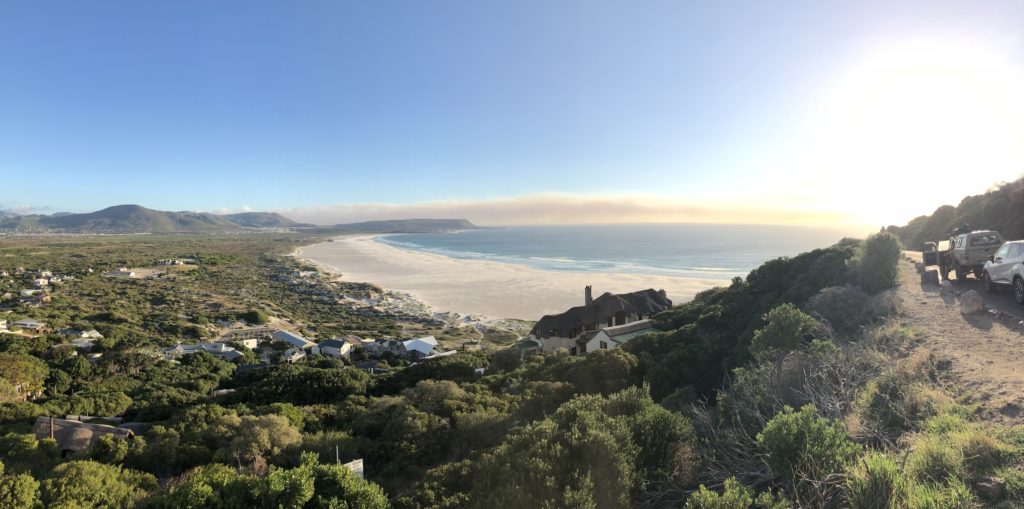 What other reason did you come to Cape Town for other than to drink the wine? The Wine Tram while a little touristy is a great way to check our the wineries in the region. We took the Curated Wine Experience, which includes lunch and several wine tastings at different cellar doors and a ride on the tram of course.
We arranged a car to take us to Franschhoek and back. Dropping us off at 930 and picking us up at 530 in the evening. However, I would also suggest spending a night or 2 up here if you have the time, there are some lovely wineries and restaurants worth visiting.
The easiest way to experience a close encounter with the Big Five in between sunbathing and wine tasting is going to Aquila Private Game Reserve. This was my first experience, and it was a great first taste. We were picked up in the morning and arrived at around lunchtime, where they provide a buffet lunch before checking into our room and heading on our afternoon safari.
There are several packages you can get, but as the animals are most active in the morning and evening, I suggest staying the night and doing both, so you have a better chance of seeing all of the animals.
The game that we saw in hindsight were not as many as you see in a national park, but the experience for our first time it was still an excellent choice.
The lions are kept in a separate enclosure and cannot be released into the general population in the central park area. They have rescued animals from the canned hunting industry, where lions are specifically bred to be hunted. Sadly, they don't have their natural behaviour instincts to be released into the general population with the rest of the park but are now free to live without fear of being hunted.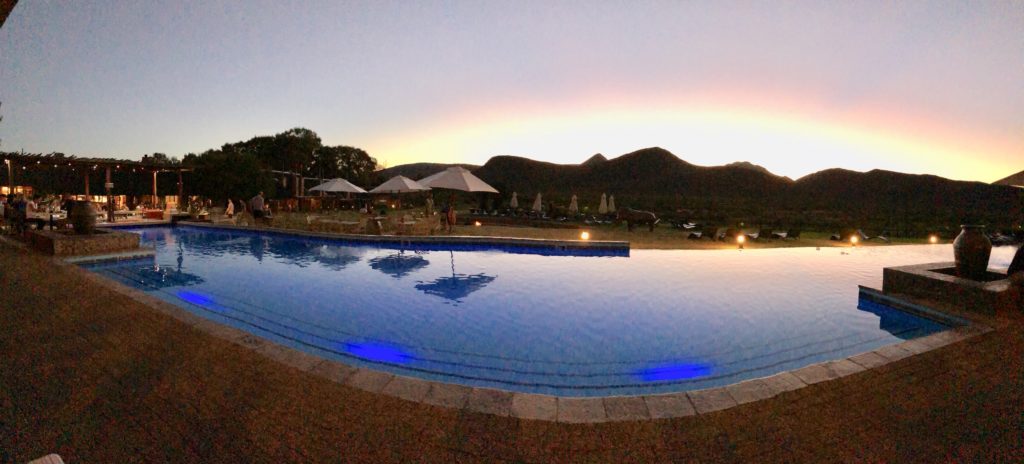 When looking at safari options for your Cape Town trip also consider an alternative to the private game parks around Cape Town. Check out my review of Addo Elephant National Park, which is only a short flight away from Cape Town.
So that's my destination overview of Cape Town. Please let me know what you think. Have you been before? Do you have any other recommendations? I will be going back in November 2019, so I will be sure to update this post with any new recommendations you suggest.
All photos by the Author except were embedded from Instagram