SELF DRIVE SAFARI WITHIN EASY REACH OF CAPE TOWN
Looking for a side trip to our annual winter sun escape from Europe to Cape Town and having a love for animals and going on Safari, we looked for a destination with a national park easily accessible to Cape Town. Last time we visited Cape Town we went to Aquila private game reserve which is about 2 hours drive outside of Cape Town. But this time around, we wanted something more than a private game reserve; we wanted something a little more authentic.
So this time we looked and considered a 2hr trip from Cape Town. 1hr flying and approx 1hr driving, starting from Cape Town International Airport. And based on these criteria, we found Port Elizabeth and Addo Elephant National Park. Given the direct flight options from Cape Town, we decided to stay for 2 nights arriving in the Afternoon and spending the next full day at the park, leaving the following day early in the morning.
DRIVE
Port Elizabeth is the other end of the Garden Route, so driving is scenic but also can be slow from Cape Town. With potential delays due to roadworks and strictly enforced speed limits by overzealous traffic police. If time is of the essence, then driving might not be an option, unless you incorporate the Garden Route into your South Africa Trip.
FLY
All full service and low-cost domestic airlines in South Africa fly to Port Elizabeth (PLZ) from most major South African cities; Johannesburg, Cape Town and Durban etc. We chose to fly British Airways (Comair) paying cash. SA Domestic fares while not only cheap, also gives you the option to upgrade to business class incredibly cheaply and give you a massive boost to your Tier Point balance for little cost if you need to retain or reach the next tier.
You can also redeem miles for flights with BA Comair using Avios or Virgin Flying Club and other Star Alliance members for SAA/Airlink flights.
The Bidvest Premier Lounge in PLZ is small and used by Airlink, BA, SAA and Priority Pass. It's comfortable with a decent spread of food and drink. Perfectly acceptable to relax for 30 minutes before boarding your flight but there is no point getting to the airport hours beforehand to visit this lounge.
Without a doubt, you need a car. All the major car rental companies are at the airport and parking is plentiful in Port Elizabeth. Just be aware of your personal belongings and use common sense, don't leave valuables in your car in plain sight during the day or at night.
If you don't want to drive, your accommodation will be able to arrange shared guided trips for you; however, I strongly recommend getting a car, it allows you to take in the park at your own pace. We easily spent an hour just watching a family of elephants with their babies at a watering hole which other tour buses spent mere minutes at the same location.
Most leisure hotels are in the Humewood and Summerstrand districts of Port Elizabeth. Hotels range from your standard branded options to a few boutique high-end options, and then you have your ultra-luxe safari lodges on private concessions close to the National Park itself. Pretty much any budget is catered for.
We chose the Windemere by Mantis, described as a luxury boutique hotel.
The Windemere by Mantis
Rate: £96 per night
Room Type: Luxury Suite
Date: January 2019
The Windemere is a lovely boutique hotel set back one street from the main esplanade. Made up of several buildings connected via a central leafy courtyard with Pool, Bar and Patio/Lounge area. We stayed in room 404 a "luxury suite" The room was huge but very dark, being on the ground floor in the back corner of the courtyard, the natural light didn't really reach that corner of the property.
The location is perfect being one street back from the main esplanade. Breakfast was included; however, the hotel charges extra for espresso-based coffee, which given the price and their "boutique" branding I would expect they include as standard. Garaged parking is provided free of charge.
There are several bars and restaurant options along the esplanade. We kept our dining choices relatively simple and kept away from the typical South African chain brands like Col'Cacchio and… Wimpy!… We found a great bar/pub called Beershack.
They have a great team who looked after us and provided some guidance on their vast range of local craft beers. The food menu is what we actually came for and even though it was just typical pub fare, they did not disappoint in taste, portion size and price.
In terms of more higher class dining, there are a few options but pretty limited unless you are staying at one of the safari lodges.
Opening Hours: 7 am to 6 pm
Cost: Foreigners R307 per person
Type: Self Drive
Time needed: at least 8hrs
Time of Year: Summer
Addo Elephant National park is a 40-minute drive to the Southern Entrance at Camp Matyholweni from Port Elizabeth. So we got up and left the hotel before breakfast as we wanted to get there nice and early.
We decided to start from the bottom entrance and work our way up. This allowed us to go and pick up some supplies at the supermarket in Colchester, which opens at 7 am. But if you choose to go via the main camp entrance, there is also a supermarket there. Just be aware that it's a lot more expensive with limited choice compared to the supermarket in Colchester.
All in all, we covered about 110km inside the park, so make sure you pick up your supply of food, snacks and drinks to last you the day. In the middle of the park, there is a lunch compound with several Braai stations you can use to cook a hot lunch. Just don't forget the wood and firestarters.
On arrival at the Southern Entrance, you must go in and complete the formalities to get your access permit. For this, you need everyone's passports, car number plate details and contact information. There is a tiered pricing structure for SA Citizens and Residents, SADC Nationals and other Foreigners.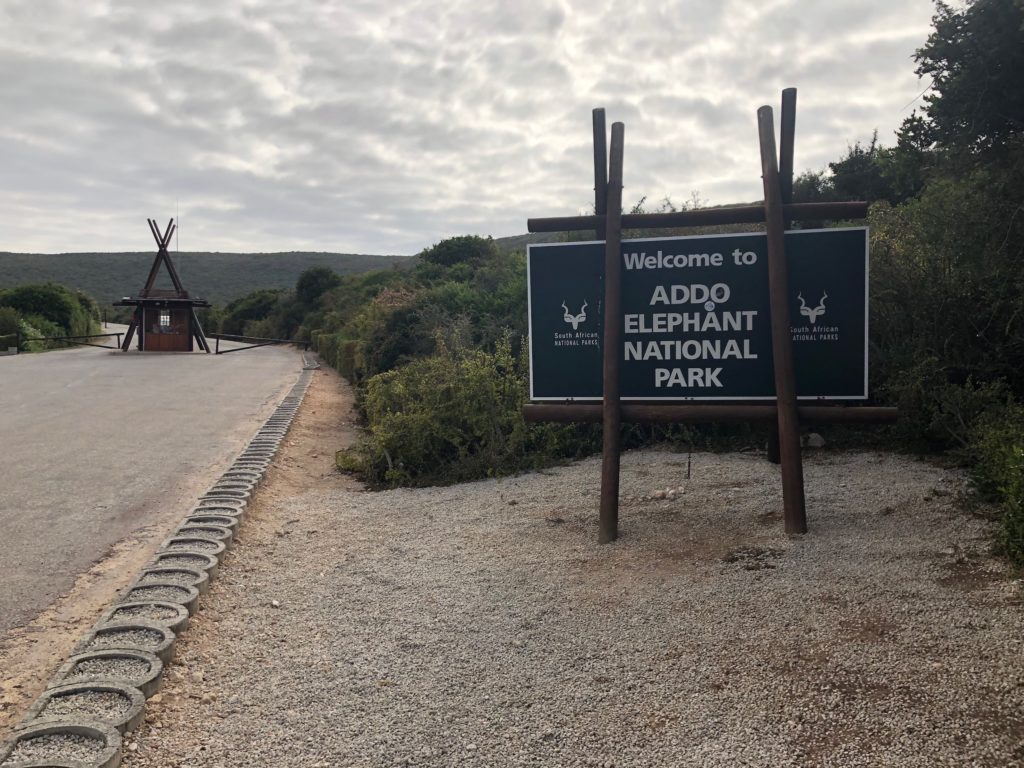 First stop is a lookout which provides impressive panoramic views across the southern park. Just be aware that you can only exit your vehicle at specific lookout points and at your own risk!

Then we started spotting along the route. First a Black Jacketed Jakal, some Impala, a family of Warthogs, Zebra then the Elephants! Lots of and lots of Elephants! I can't emphasise enough how incredible the park is and doing this outside of a tour group is the best way to get around. Being able to travel at your own pace gives extraordinary opportunities to capture incredible shots that you may otherwise miss out on in a tour group.
After our first elephant encounter, the sightings became more frequent with more substantial herds of various animals. We, unfortunately, missed the Lions which evaded us for the day. When we left, we heard the pride was spotted by the Lunch Camp about an hour after we had left the area. Oh well, there is always next time!
All photos by the Author