A chance to fly in the nose of the Queen of the Skies
British Airways retired their 747 fleet in 2020
I have flown on the 747 13 times according to myflightradar24 and flying on the upper deck of a 747 is a great experience, its like flying in your own little private jet. However, I never had the opportunity to fly First class in the nose of the 747 until now.
So when given the opportunity with the British Airways Dream Tickets offer to Cape Town (July 2018) I jumped at the chance to fly in 1A for a trip I was planning for January 2019 and given time is quickly running out to fly on the 747 I decided to go ahead and book this ticket.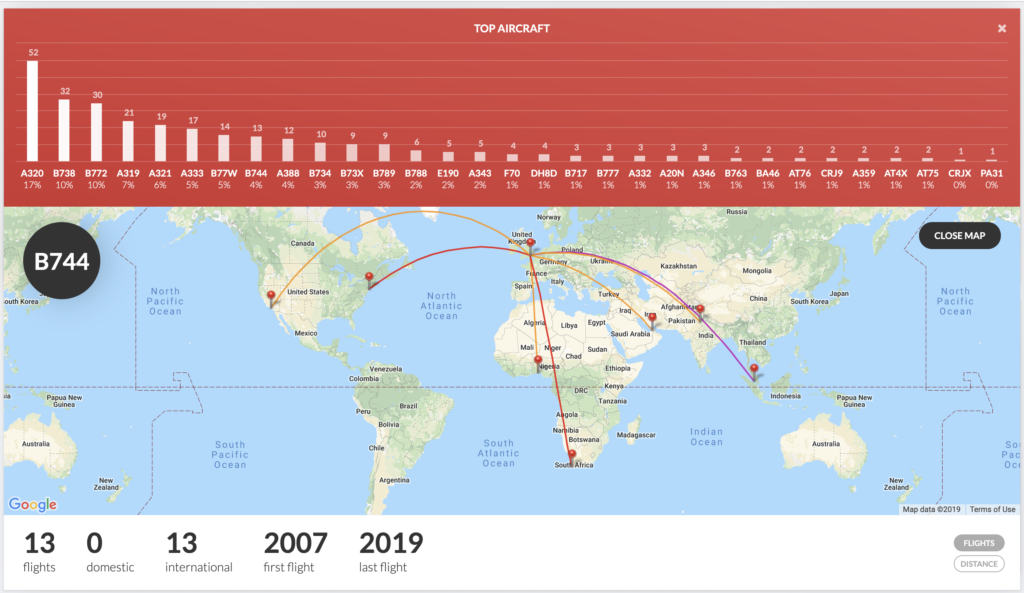 Booking:
The dream ticket meant if you bought a companion ticket you would get a heavily discounted fare at around £2000 per person return, however when adding car hire, the price dropped to £1800 per person return, and you could pay with a deposit, allowing you to spread the cost until 5 weeks before departure.
This while a lot of money, a standard first class ticket from London to Cape Town run in the region of £4500-£5500 per person return, so taking advantage of this deal represents more than 55% saving.
Now occasionally you will find business class tickets from Europe (not London) to Cape Town like right now until 31st of July 2019 for about £1400. Is it still worth booking first class vs business class? Well if a similarly priced First class ticket to the dream tickets offer is available, I would say it is worth taking the first class flight. Given its a more direct route, there is less hassle with an ex-EU itinerary, there is also no chance of a missed connection, and there are no long layovers as is the case for the current OSL-CPT deal with Qatar Airways.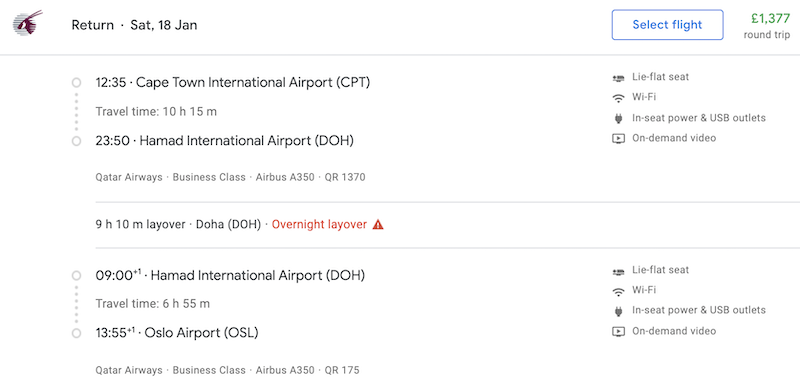 Overall the saving is about £250 after taking into account the flights, getting to the EU departure point and a possible hotel stay. I would be inclined to stick with the direct First class flight option. It means I get a full extra day at the destination and there is no hassle getting to from an EU airport.
At the time of booking my flights, an option to fly from Amsterdam to Cape Town at £1500 per person return in business was the best option other than the First class offer from London. So the decision was much easier to go with this first class ticket.
When booking I had the option of flying also on the A380 to Johannesburg and then connecting to a BA Comair flight down to Cape Town. However, I have done this before and while its always my first preference, given the size and comfort of the A380, on this occasion I chose to fly the 747 since its getting close to the end of its life now and there will be fewer opportunities to fly the Queen of the skies in the future.
In total I earned 480 Tier Points and 42,134 Avios being an Executive Club Gold member; also, I received a bonus 3603 Avios for making the booking through BA holidays with car hire and an extra 5000 each for service recovery. Combined with a household account, the total Avios for 2 was 97,871 Avios! That's more than enough for a return First class flight to Tel Aviv, on an off-peak date.
Lounge:
We checked in online and with no bags to check, we proceeded directly through security to the lounge. Having booked the direct to Cape Town flight, it is one of many which depart from Terminal 3 at Heathrow.
In terminal 3, there are several lounge options that you can choose from:
AA First class lounge (I don't know why anyone goes here)
BA First class Lounge (pre-flight dining for First passengers and spa)
CX First class lounge (a la carte dining and the best views)
QF First and Business (Gin bar)
On this trip, we used the Qantas and Cathay Pacific lounges and proceeded to the BA lounge briefly for a not so enjoyable spa appointment.
First, we went to the Qantas lounge. It was very quiet at around 3pm, and there was no a la carte dining. This I was told, is only offered 3 hours before a Qantas departure which are around 12pm and 9pm. So no salt and pepper squid on this occasion. We did enjoy a Gin and Tonic from the Gin bar, where I got to try Aviation Gin for the first time, and I'd totally recommend it. We then moved to the main event, the Cathay Pacific First class lounge.
The style here is incredible, the soft furnishing and the light fittings give it a very warm and homely feel. I really love the live edge wood tables and the burst of green from the plants. There is also an a la carte dining room and shower facilities. This time I decided to just have a light bite from the buffet area and a shower before my flight.
After that, I went to the Elemis spa in the BA lounge, where I had booked a treatment via the British Airways You First team for myself and my partner. When I arrived, I was told there was no booking for either of us even though I had the confirmation email and it correctly stated Terminal 3. The lady at the spa reception didn't care and said I need to take it up with British Airways. Even though the confirmation email comes from Elemis. This is definitely not what you expect from a first class ticket, and there was no attempt to fit us in except until after our departure time. I called You First, and they apologised and offered 5000 Avios each as a service recovery offer.
Boarding
Boarding at Terminal 3 even with grouped boarding is hectic at the best of times for anything more significant than an A320. Boarding was through door 2, but on these old 747's which are used on leisure routes, premium economy sits between business and first. This while, not a problem boarding, it is a problem disembarking as it means premium economy and business class passengers get off before First Class passengers. Which in turn, means you are pretty far back at the immigration queue by the time you get there. Not a great premium experience, in my opinion.
Upon boarding, we made out way through the premium economy cabin where we were met halfway but a first class flight attendant who then proceeded to escort us to our seats in 1A and 1K.
Service
We were offered a pre-departure beverage of choice served with some hot nuts, followed by the amenities presented on a silver tray. These included amenity kit, pyjamas and slippers and the menu for the flight. At the time this flight was taken (January 2019) the amenities offered were the Liberty kits and older style pyjamas as well as the older style dinner service.
First dining is dine-on-demand, and you can choose whenever you want to eat. I decided I would eat soon after we took off so I could maximise sleep. I also decided I would skip breakfast, given how early we would be landing and wanting to eat at one of my favourite breakfast spots in Cape Town when we arrived.
The crew were absolutely fantastic on this flight and were personal and attentive. Some routes seem to be a bit hit and miss. But when its Cape Town I think everyone is happy to be going there even the crew, so you always get a happy crew on that flight. Who can say really after 1 trip though?
The menu for the main meal was as follows:
Starters
Rabbit and ham hock terrine, quince and carrot chutney, mustard spiced celeriac puree
Warm truffle linguini with chervil crème fraîche and shaved cheese
Cream of Nettle soup with smoked almonds and watercress
Fresh seasonal salad with a choice of Dijon mustard dressing or Blue cheese dressing
Main
Seared fillet of British beef, Café de Paris butter, grilled Portobello mushroom, slow roasted tomato and roasted charlotte potatoes
Roasted halibut, pickled wild mushrooms, kohlrabi, apple and sorrel salad with Oscietra beurre blanc
Wild boar tortellini with ratatouille, crispy capers, tarragon and black olives
Crispy polenta, roasted onion squash with parmesan cream buttered spinach and chestnut
Main course salad of sticky Szechuan beef with truffle glass noodles, enoki mushrooms and white sesame seeds
Desserts
Chocolate Hazelnut Slice & Earl Grey Curd Kit
Warm Apricot Sponge Pudding
Vanilla bean Ice cream
Cheese Plate
Cenarth Brie
Cave Aged Wookey Hole Cheddar
Tomme De Savoie
Shropshire blue

An amuse bouche was served before the starter, which was a pleasant surprise. This was a cold prawn with a mousse and jelly. This was followed by cream of Nettle soup, Beef fillet and Warm Apricot pudding. I did ask for ice cream, but there was none left. A bit odd I found given Gold members should be given first preference if there isn't enough for everyone. That said I guess the first preference went to my partner who ate dessert before me and when I glanced over and saw 4 scoops piled up into a pyramid of ice cream.
The champagne was none other than Laurent-Perrier Grand Siècle a very smooth drop indeed and not cheap at the average price of £120 a bottle. For a non-vintage, this champagne is excellent and can be found in the First class of many airlines.
But the one thing I love the most about flying first class with BA is the ability to have a proper espresso-based coffee rather than just horrible brown water. I know you can get this in business class with some airlines like Qatar, but it can sometimes be prolonged given the size of the cabin, but with only 14 passengers on the 747 it makes it much faster, and the crew are more proactive in offering to make you another.
The one thing I've found recently is the chocolate tray seems only to be brought out on request. This may have changed with the new service which I am yet to try, but I will report back once I have.
Seat and IFE
The seat is very wide and comfortable. It's big enough to support buddy dining which I tried on the flight back, although it is a very tight squeeze if you are the buddy, especially, compared to the A380 which is absolutely massive!
Being in the nose of the plane in Seats 1A and 1K gives the most incredible perspective where you can see almost facing forward. It was very bizarre being able to see the passengers in the departure lounge queuing to board.
The big problem with seats 1A and 1K on the 747 are that there is no overhead storage space, so you have to use the closet. While this is fine, you would think other passengers would accept this and not try and use it, after all, they have overhead bins to use. We don't. However, on this flight, a passenger from row 5 came all the way to the front and with complete disregard for anyone else's belongings dumped his 20kg case right on my bag. Now I don't mind other people using the closet but show some respect to other peoples belongings.
The seat, when made into a bed, is very comfortable and was made up by the crew shortly after I finished my meal. The bedding is light and soft, although I always find I get too hot on planes and end up kicking off the blanket.
The IFE was the worst, it was old and grainy with limited choice. It's terrible that a system like this is still around and sadly will be around for 3 more years it seems. It's a shame that for some BA routes its a bit of a lottery between getting a terrible old system that isn't fit for purpose vs a fantastic new IFE system which is a super quick state of the art platform.
Final Thoughts
Overall it was a great flight, the friendly and chatty crew really made the trip enjoyable. Now would I pay £4500 for this? Absolutely Not. Would I pay £1800 or less for a 12hr flight? Yes absolutely. It all comes down to cost and what you personally are happy to pay for a seat on a plane. First class travel needn't be expensive, and if you can get a first class ticket on points or during a sale as long as you don't set your expectations too high, you're going to have a great time.