Sadly British Airways Comair ceased operations on the 9th of June 2022.
This article is no longer relevant and now only serves for historical reference.
Lovingly referred to as "Club Africa". How does the South African version of BA compare with "Club Europe"?
When flying regionally in Southern Africa, you have quite a few choices, especially domestically in South Africa. The full-service providers are SAA/Airlink and BA. While the low-cost carriers are Kulula, Flysafair and Mango.
If you are a Oneworld Frequent flyer, you will likely end up on British Airways flight operated by Comair. Which provides full status recognition and network integration much the same as if you were flying on a mainline service.
This franchise started in 1996 and allowed a strong feeder network across the region into British Airways mainline network as well as onward connections for the likes of Cathay, LATAM, Qantas and Qatar. Thus making it easier for connections across southern Africa from the Oneworld network.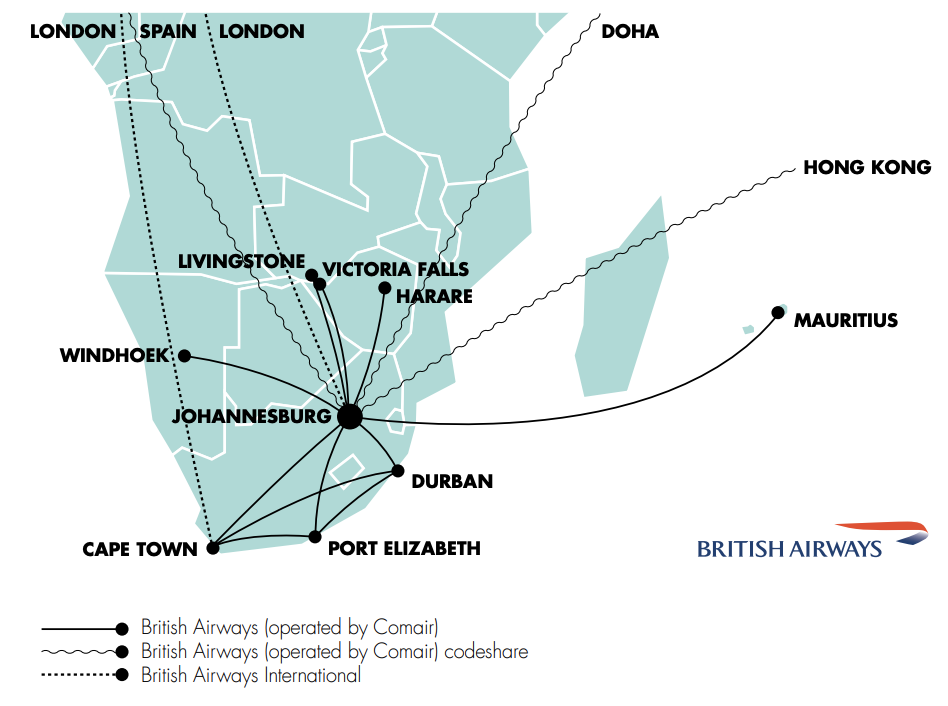 This review is more of a general summary of the business class service and the difference in offerings with the many seats types etc. This is not based on a single flight, but several trips where the consistency experienced across all of them meant a single encompassing review for the standard business class service on BA Comair across Southern Africa.
The flights taken as part of this report were:
Cape Town to Johannesburg and vice versa
Cape Town to Port Elizabeth and vice versa
Harare to Johannesburg
Johannesburg to Victoria Falls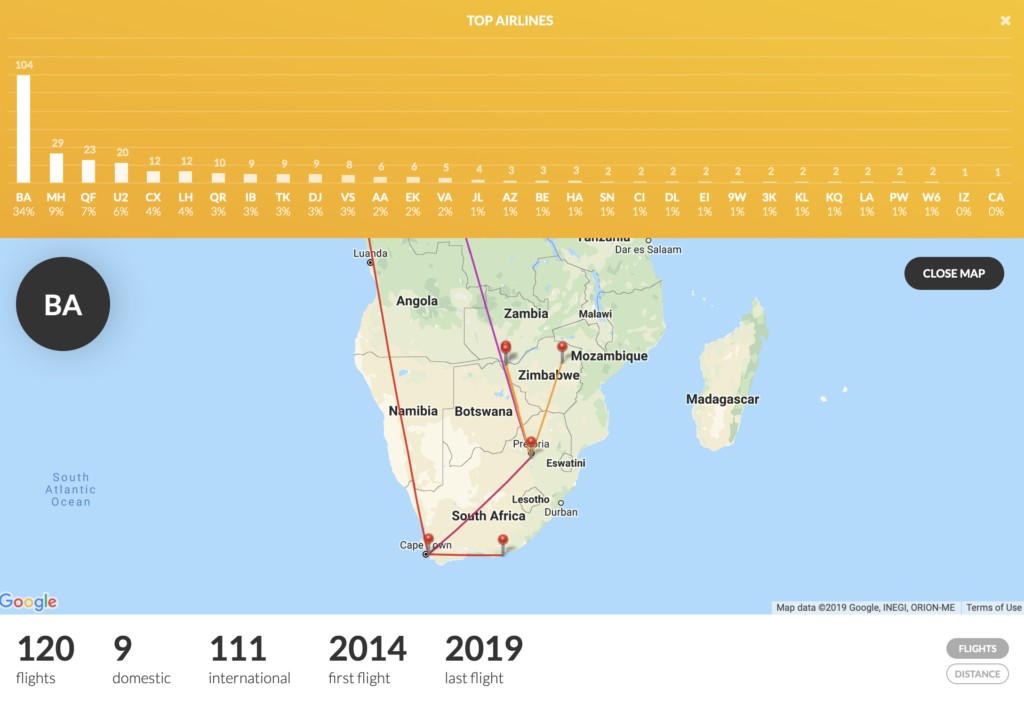 BOOKING
Booking flights in business class in South Africa can be expensive. However, there are a few ways you can still fly relatively cheaply.
You will either have a ticket booked as a thru ticket from the mainline service, eg. LHR-JNB-VFA where these tag on flights are included in your fare for little or no additional cost.
You can book with miles, either with Avios or other Oneworld frequently flyer programs like AAdvantage, Qantas FFP etc.

Where booking with miles, in this case, I'll talk about Avios, you can book award flights as a Reward Flight Saver (RFS) where the taxes are capped at 500ZAR(±£27) for economy and 900ZAR (±£50) for business class each way. It's worth noting these are much more expensive than Europe RFS which is £17.50 for economy and £25 for business each way. So sometimes it's not the best approach (this very much depends on how you value your Avios. I typically value my Avios at 1p per Avios)
I've found booking economy tickets with Avios are not usually worth it as you can often find cash fares for within about 5-10% of the price of the award booking: 6500 Avios + 500ZAR (±£92) vs 1760ZAR (±£100) approx 8% saving.
However, I've often found the business class awards to be worth it in comparison to the cash fare: 12,750 Avios + 900ZAR (±£177) vs 4100ZAR (±£230) approx 23% saving.

I always target a 40-50% saving vs the cash fare with my Avios bookings so while the business class saving isn't in my usual range, it's definitely worth it compared with an economy fare, but there is definitely move savings to be made.

Cash booking… The great thing about booking an economy cash fare is the ability to upgrade your ticket at the airport for a low price. This does not always work as its subject to availability, but if you get to the airport early and request an upsell they will check, and if available you only pay a nominal 360-550ZAR (±£20-£30) to upgrade. As its a cash upgrade you will be entitled to the full Avios and Tier Points of a business class ticket. So an original economy cash ticket upgraded via the upsell method works out to be: 1760ZAR+550ZAR (±£130) vs 4100ZAR(±£230) approx 43% saving.
As my target is always a 40-50% saving on the advertised fare I will always go for the economy cash option and try and upgrade at the airport, then at the end of the day if the upgrade isn't available, it's not a long flight and will fly economy anyway. So far, I've had a 90% success rate.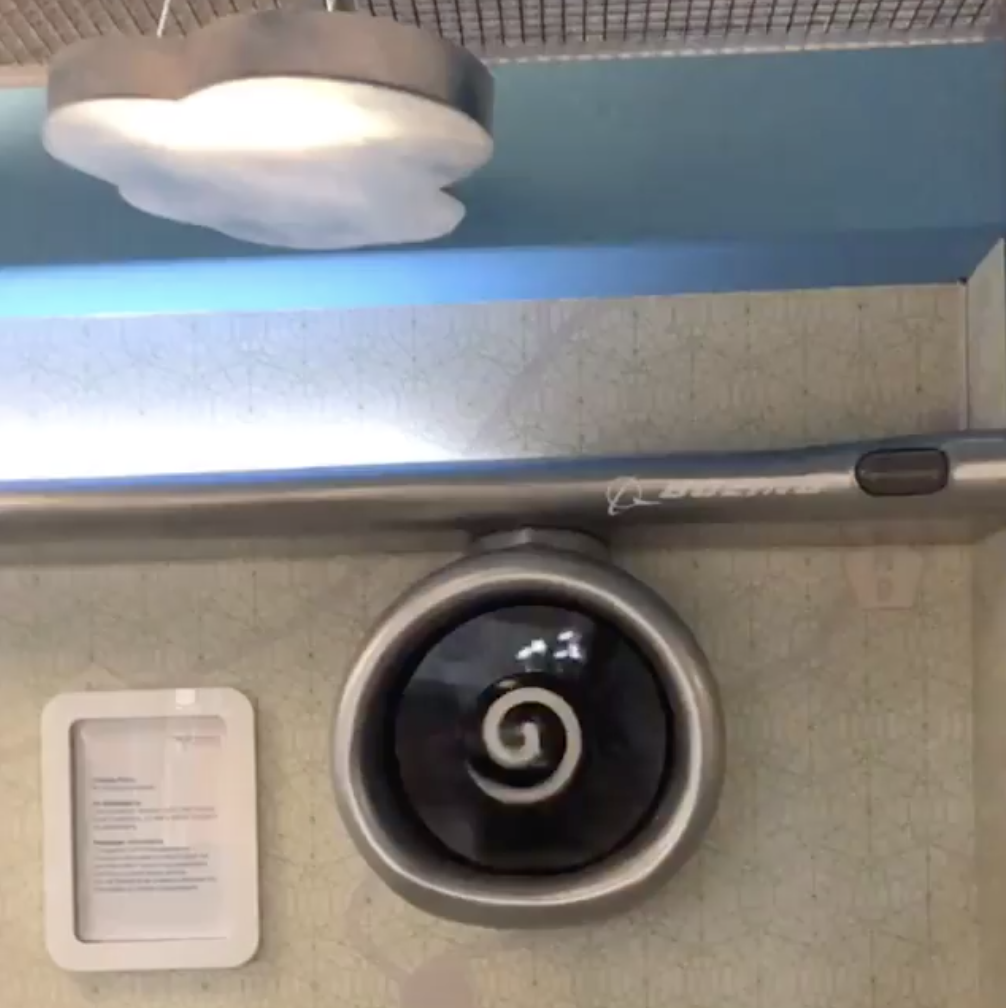 CHECK IN & SECURITY
Check-in for business class is as you would expect with dedicated desks similar to that of British Airways mainline service, fast track security varies by airport, but generally, at the bigger airports (JNB/CPT) there is a fast track line which you will be eligible to use.
If you trying for an upsell, getting to the airport early to secure it entails a bit of running around between the check-in desk and the ticket desk. It's a funny system and its the same at every airport. You first must go to the check-in counter, ask for an upsell, they will then call the ticket desk check, send you over there where you then pay and are issued with a voucher. Then you go back to the check-in desk to complete your baggage drop and boarding pass issue. If anything this process can be streamlined a little bit, but if you goto the ticket desk first asking for the upsell they will send you to the check-in desk.
LOUNGE
The lounge is really where Comair knock it out of the park. The SLOW lounges in Johannesburg and Cape Town are magnificently designed and provide a wide array of food and drinks including barista made coffee. They are very much like a Qantas domestic business/OW Emerald lounge in some locations across Australia (SYD/MEL/BNE/PER).
They have a very modern style and include a large variety of rest areas, work areas and full shower facilities to freshen up. It really puts a lot of the BA regional lounges across Europe to shame.
Special thanks to @mattlikesplanes for sharing a few of his lounge photos with me
BOARDING
Sadly for whatever reason I've never had an airbridge boarding in Cape Town. It seems they operate in reverse here and the LCC's use the airbridge and the full-service carriers use the bus gates.
The benefit of this is that it allows for great views of the apron and plane movements when being taken to the plane.
SEAT
This is where your experience will vary quite a bit. But there is an easy way to pick your flights to ensure you get the best seats.
Avoid any flight which shows a 2-2 seat map in business class. This is the same as Club Europe where its the same economy seat just with the middle seat blocked.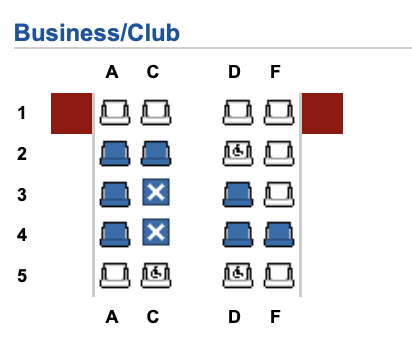 The majority of the fleets business class has a fixed 2-3 Business class configuration but in 2 designs. 2-3 is a bit weird for a 737 business class, but they make it work surprisingly well. The first is the older convertible seats which are the same style as the old BA business class last seen on the 767 which retired last year.
The second variety is the newer club seats which are very wide and in soft blue leather are the best seats in the Club Africa fleet, in terms of comfort and space.
How do you tell which is which so you can get the newer club seat? When looking at the seat maps, both will be in a 2-3 configuration, however, for the more modern Club Africa seat, row 1 will be in a 2-2 setting with no seat showing in column E with the rest of the cabin being in 2-3 config.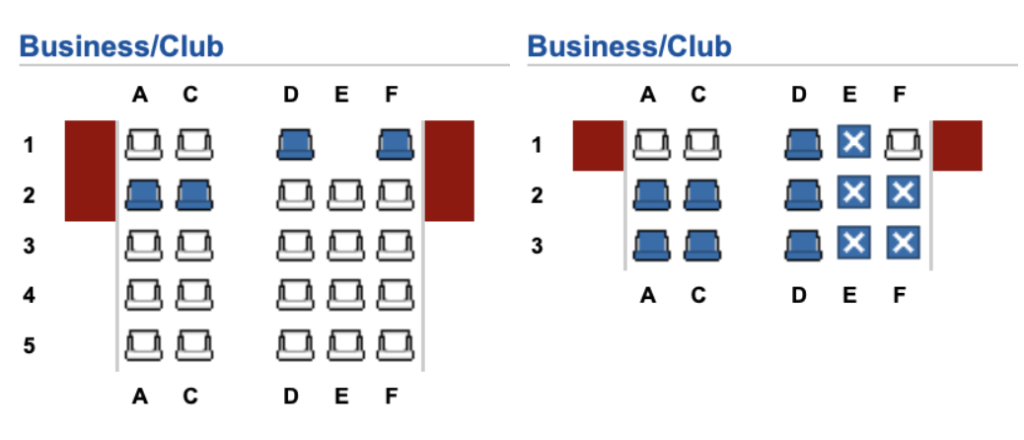 What are the seats to go for then?
For couples anything on the left side of the aircraft in AC or row 1DF.
For solo travellers the best seat is 2D you will have unlimited legroom due to the fact there is no seat in front.
It's a shame that a lot of their newer planes are coming with the same configuration as BA deploy in Europe. It is a real enjoyment to get a proper regional business class seat when flying British Airways. What will be even worse is when they introduce the 737-MAX-8 planes which they have stated will seat up to 200 passengers. This is a very dense configuration for a MAX-8, but if they can't demonstrate the actual plane correctly can we be sure they have their numbers right too?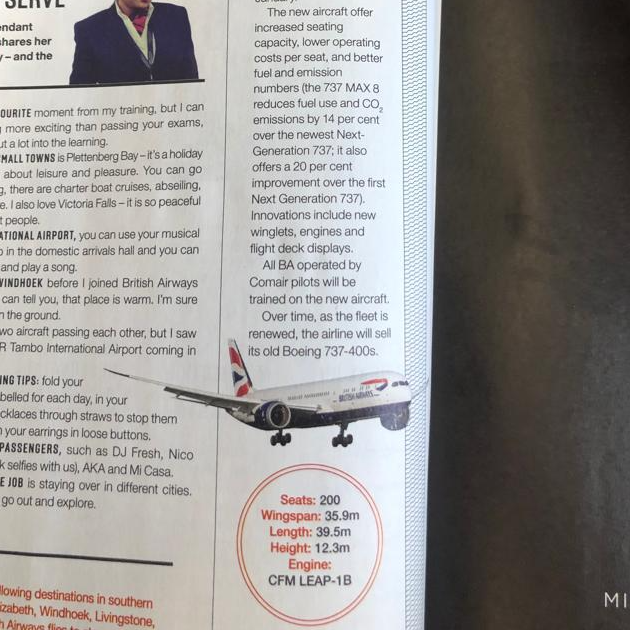 SERVICE & CATERING
The catering on board is really incredible, given the short distances they fly in comparison to the mainline BA services. On all flights I've flown so far, I've been presented with 3 hot options, offered on a tray for you to choose from. This is placed on your setting that includes starter, dessert and treats. Drinks are plenty, and they serve a very nice South African sparkling wine.
The most surprising course of all was their ability to cook a steak on a 2hour flight perfectly, something not even BA on long haul first class can do.
FINAL VERDICT
It's sometimes tough to justify paying for business class on very short flights that are =<2hrs. But if you can get it as an upgrade for as little as £20 what have you got to lose? A drink and a nice meal probably aren't worth £20, but the extra tier points and Avios are, and at that price its a bargain that I'll take every single time.