Unlimited legroom, fully flat bed, everything you need for a 2hr flight.
Who doesn't love a flatbed when flying? Sadly flying Business Class in Europe is the worst in the world. Nearly all flights are just an economy seat with the middle seat blocked. Not worth the extra cost you see between economy and business class.

However, there are a few routes where you can fly fully flat on a long haul jet for a very reasonable price.
So why would you do this? Well, for the same price in cash or miles you'll get a far superior hard product, but at the same time, you will receive the same service you would typically get on a short-haul route in terms of meal and drinks. If you have a choice between flying on a flight to your destination that has a better product at a similar time and price, its a no brainer why you wouldn't pick it right? Even flying economy will be supremely better than the short-haul economy.
There are several routes you can fly around Europe:
London – Madrid (BA 777, IB A330/A340/A350)
London – Moscow (BA 777/787/A321 (mid–haul config))
London – Istanbul (Turkish Airlines A330/B777)
Madrid-Frankfurt (LATAM 787)
Stockholm-Moscow (Singapore Airlines A350)
Stockholm-Oslo (Ethiopian 787)
Malta-Larnaca (Emirates 777)
I had booked the LATAM 787 as an interesting way home from Madrid back to London via Frankfurt.
BOOKING
Booking the LATAM flight can be done incredibly cheaply with cash. I only paid £84.10 one way from Madrid to Frankfurt. In comparison, the Avios cost for this same flight is 15000 Avios and £17.40 (or £167.40 price based on Avios valuation of 1p per Avios). Therefore, If you can pay less than £167.40 for a cash fare, you will be better off, you will earn 40 Tier Points and 1104 Avios. Sadly though the ability to credit to BA will soon be coming to an end with the recent announcement LATAM will be leaving the One World alliance.
It's not clear if LATAM will join Skyteam at this stage but while you can still credit to OW alliances like BA its an excellent chance to get some cheap Tier Points and a flight which is valued very cheaply compared to the same flights offered by short-haul operators Air Europa, Iberia and Lufthansa who are up to 3 times the price when checking an example date this November:

CHECK-IN AND SECURITY
Check-in was quite straight forward for this flight, and there was no queue at the LATAM check-in desks. Once I got my boarding pass, I proceeded to the Fast Track security, where I was refused entry even though the signage specifically states One World Priority access for Emerald and Sapphire members. LATAM does not pay for Fast track which is quite surprising since LATAM have a large number of flights from Madrid year-round.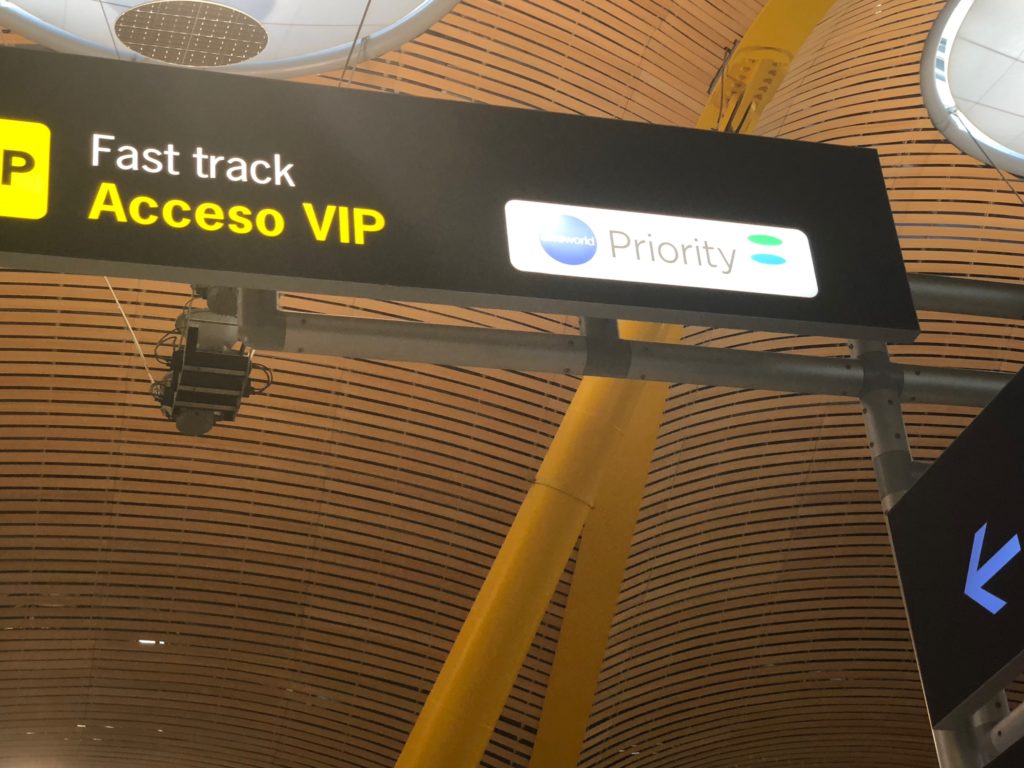 Luckily the main security line was not very busy and was through in no time.
Terminal and Lounge
Terminal 4 is vast with incredible architecture. It's worth noting; All long-haul jets even if they are operating short-haul, depart from the satellite terminal which is a far distance by underground train from the main terminal. It takes several minutes, so make sure you get across with plenty of time to spare. Connecting, particularly from domestic Spanish flights to international can also be a problem as the minimum connection time limits at T4 is amazingly short, so while you may make your flight, if you have luggage, it certainly won't. So the benefit is you get a free shopping spree if your bags do not make it.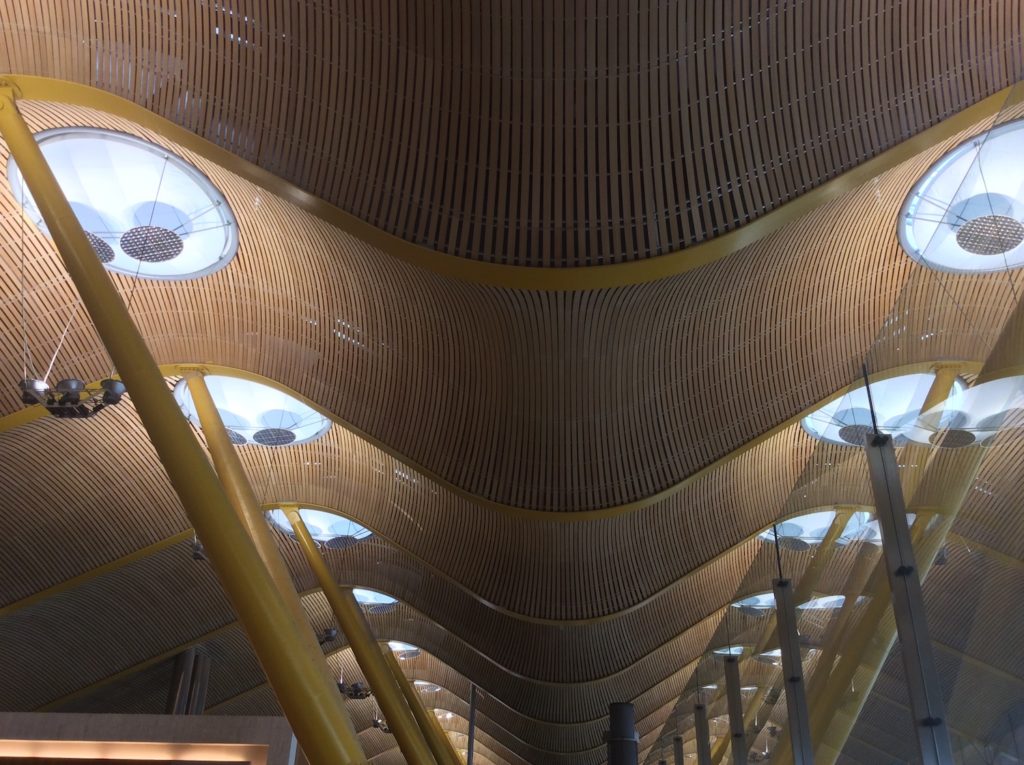 After immigration, you will end up going through duty-free where the entrance to the Iberia Velasquez lounge can be found. Blink, and you'll miss it.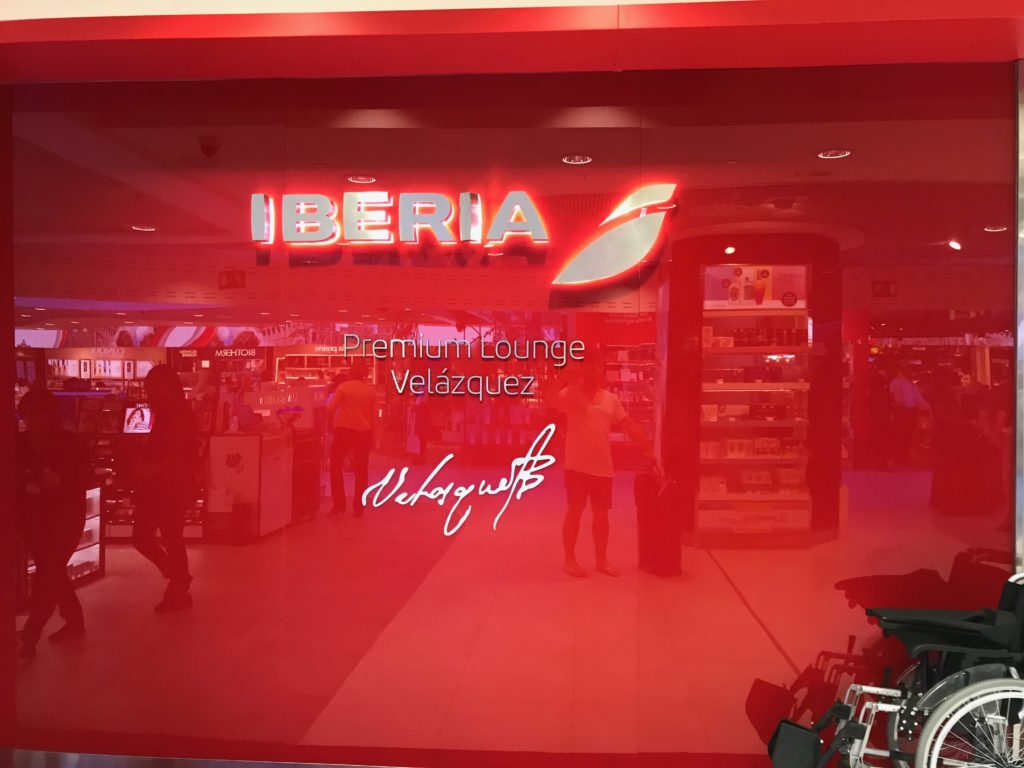 Access is for those travelling on One World alliance members in Business class or Sapphire and Emerald frequent fliers. The Iberia Velázquez Lounge at T4S is Large with great views of the apron and excellent seating options.
It is split into several sections with two self-service food stations at either end of the lounge and a well-stocked bar at the far right end.
The food choices are somewhat limited unless you arrive at Spanish Dinner time about 9pm
During the dinner service, they have a dining room on the left far end of the lounge where they have al a carte dining on offer. I believe its the same as what is on offer at the buffet though. Each time I have been however it has been early evening or late afternoon so no table service is offered and the buffet selection is somewhat limited to just some Spanish Tortilla, Salads, Sandwiches, Cold Cuts and Ice cream.
Overall, an excellent lounge with a good selection of drinks and seating options. The only downside was the food options, slightly disappointing for what is Iberia's flagship lounge.
FLIGHT
Boarding was straight forward and separated into relevant groups; we boarded from door 2L and turned left into the business class cabin. The cabin is laid out in a 2-2-2 configuration with which I always find odd on new aircraft like the 787. One would think airlines would have a 1-2-1 layout on more modern aircraft, that said BA is 2-3-2 on their 787's.
The seat is very open and spacious. The seat is comfortable with a good-sized ottoman that wasn't enclosed and also acted as a storage box. I prefer having the freedom to move my feet around, which is often not the case with the newer layouts that have a foot cubby hole. The added benefit was the seat beside me was not occupied, so I didn't have to worry about the lack of privacy.
Pre-departure service consisted of champagne and mixed nuts which was a unexpected surprise. Shortly after takeoff, a light lunch was offered. I had the prawns which were well marinated in a tasty sauce.
Overall, the flight was perfectly acceptable for a short hop from Madrid to Frankfurt; I would, however, have my doubts about flying this long haul. The main reason is the complete lack of privacy with your neighbour. What is especially puzzling is there is a covered slot in the seat where a small privacy divider is usually installed. It seems though LATAM has chosen not to install this option for whatever reason. As such, you will get to know your neighbour very well. Okay if you are travelling as a couple but if you are going solo… Hmmm no thanks, I'd prefer a seat a little more privacy rather than none at all.