Lufthansa was granted Skytrax 5 star airline status in December 2017. So with a recent trip to Istanbul via Frankfurt, I decided to try out their business class to see if it met up to the 5 star standards, especially considering it was only £2 more expensive than economy.
BOOKING
Having been in Istanbul for a few weeks, I needed to come back for an appointment, which meant flying back from Istanbul, going across to North London and then going back to the airport to fly back to Istanbul again.
Earlier that morning, I arrived back on British Airways. My usual go-to when I get bored of the repetitive meals they serve on Turkish Airlines on this route. But having looked at the prices both BA and TK were about £800 in economy, and Lufthansa was £300 or £302 in Business. Having never tried Lufthansa Business before I thought It would be worth a go and for only £2 more why wouldn't you?
Sadly the booking class was P and without realising my travel agent linked this booking to my Turkish Airlines Miles&Smiles account which meant it earned nothing. Had I linked this to Singapore Krisflyer it would have received 125% miles, doh! As I was in such a rush, I didn't think to check https://www.wheretocredit.com/ which should be in any frequent flyer or miles and points collectors bookmarks for checking where to credit flights for maximum earning.
CHECK-IN & SECURITY
Check-in in Terminal 2 is a little confusing as the check-in zones layered with the premium check-in zones being somewhat hidden behind the standard check-in areas. If you are a regular flyer out of Terminal 2, I don't imagine it would be much of a problem, but given I fly mostly out of the T3 and T5, it was a little foreign to me.
Security was quick and efficient with a dedicated fast track lane for security.
LOUNGE
Terminal 2 has several lounges to choose from; it being the Star Alliance terminal you will find several airline lounges you can access. The top-end lounges located in the Satellite terminal, given most long haul flights, depart from there.
First, I visited the Lufthansa lounge in the main terminal area. However, it was extremely crowded, with nowhere to sit. The decor was rather sterile with very dense seating configuration. Towards the back of the lounge, there is a separate lounge for Lufthansa Senator and Star Alliance Gold members which I would hope is a more inviting place than the so-called business lounge they have here. I immediately left.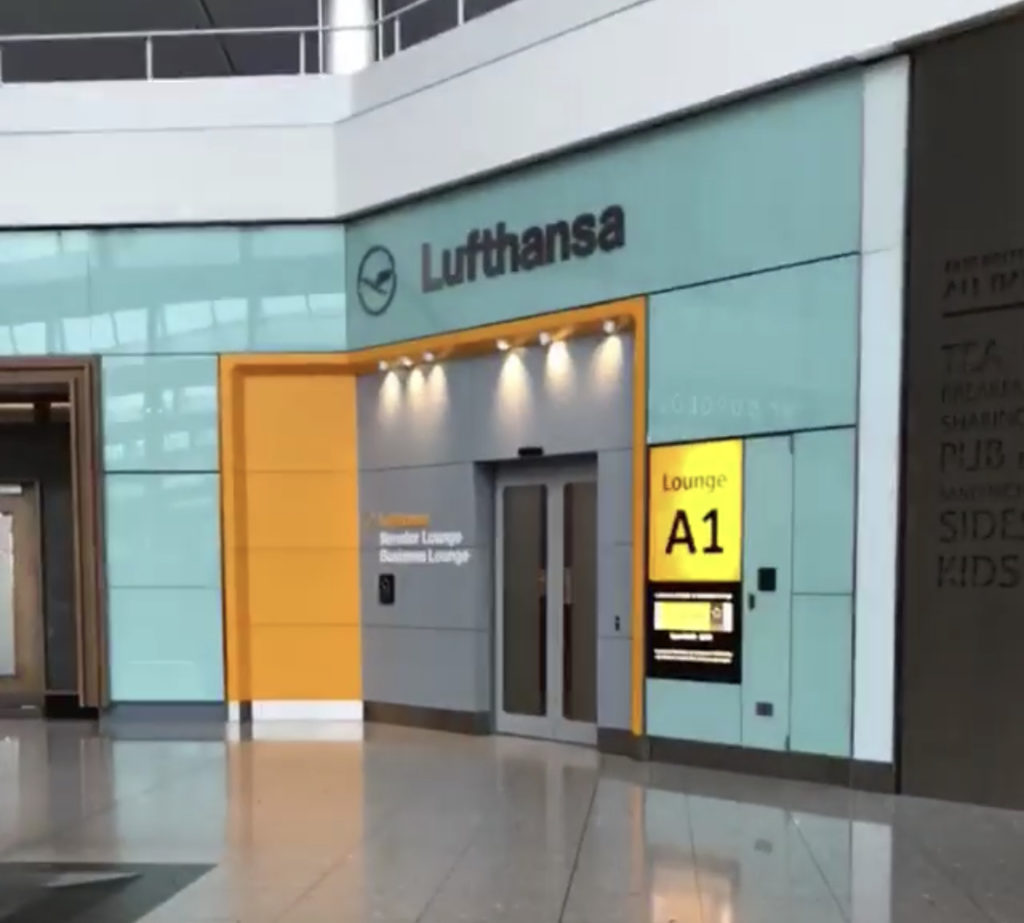 If like me you are flying out of T2 with priority pass or business class ticket you have a few better options:
Plaza Premium Lounge
A Beautifully designed lounge with comfortable seating and a relaxing atmosphere. Accessible on priority pass. If I were flying business class short-haul and didn't have time to make it to the satellite terminal, I would pick this lounge over the Lufthansa Business class lounge.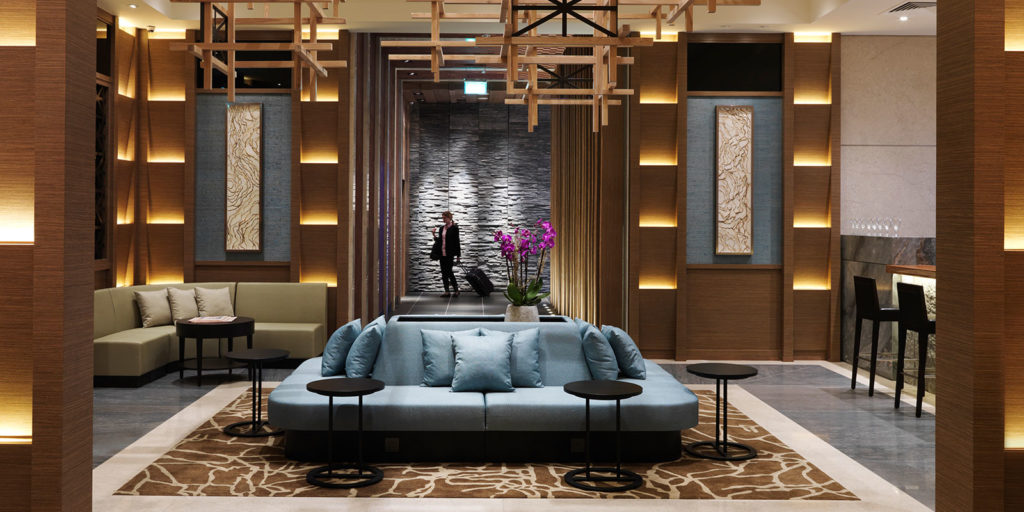 Singapore Airlines
If you have time, I suggest going straight across to the satellite terminal and visiting the Singapore Airlines lounge. It's a good 10 minutes walk from security so if you're on a short-haul flight make sure you give yourself enough time to get back to the main terminal.
The Singapore business lounge is beautifully designed with several areas and lots of private seating areas. My favourite unique item they have is the Singapore sling ice cream.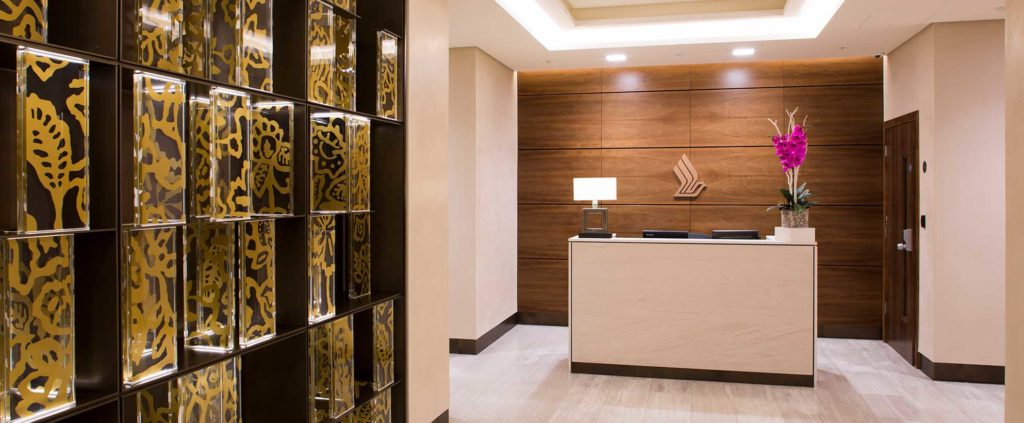 The bar is well stocked and is self serve along with some hot buffet food options. The seating well thought out with plenty of private seat areas for couples, groups or solo travellers. These single booths remind me of the quirky Cathay pacific booths found in their business lounges, but much more prominent and cosier.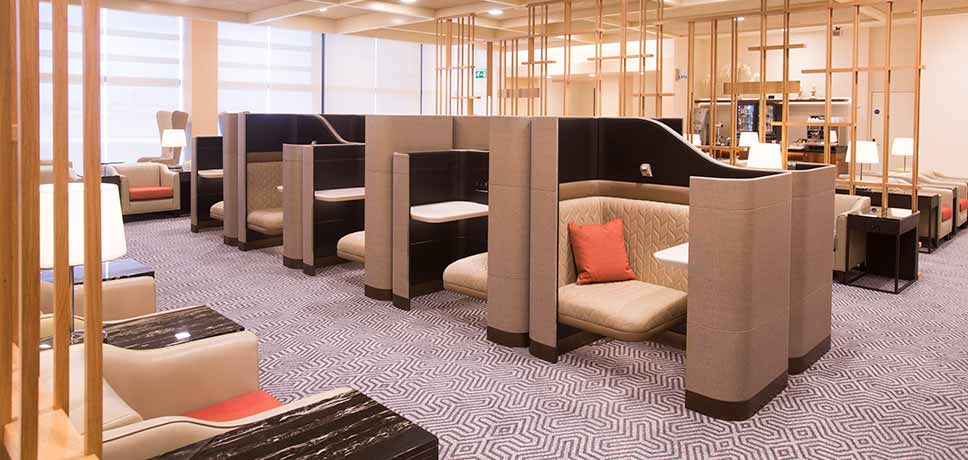 BOARDING
Boarding splits into two groups; however, as I was the only person not in a suit, I was challenged by the gate staff and told I was in the wrong queue without checking my boarding pass. Wow! That's real five stars. Some rather chuffed suited germans behind me seemed to be pleased and eager to take my position at the front of the queue until of course, I said in a rather cheeky and joking tone, Oh is this the First class, line? My seat Number is 1F, and it says Business and Priority Boarding, to which he checked and asked to see my passport to verify I was a rightful business class ticket holder in my pink T-shirt and ripped jeans.
AIRCRAFT and SEAT
Wow! A brand new A320NEO, this must show Lufthansa's latest and greatest seat I thought… I was tracking the plane as it was flying into London on Flightradar24. It would be my first NEO, so I was a little excited.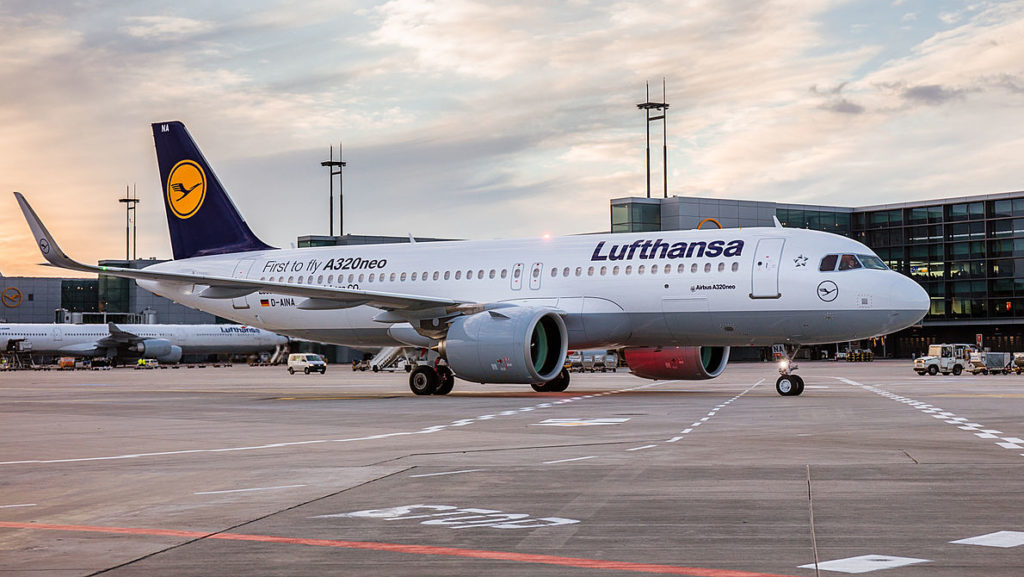 Well, upon boarding and sitting down, I was a little gobsmacked. I hope I don't have to sit in this for the next 4.5hrs I thought. Thin fabric mesh on a metal frame is how I can best describe this seat. Now at the very least, I would expect some padding and a headrest. Sadly not.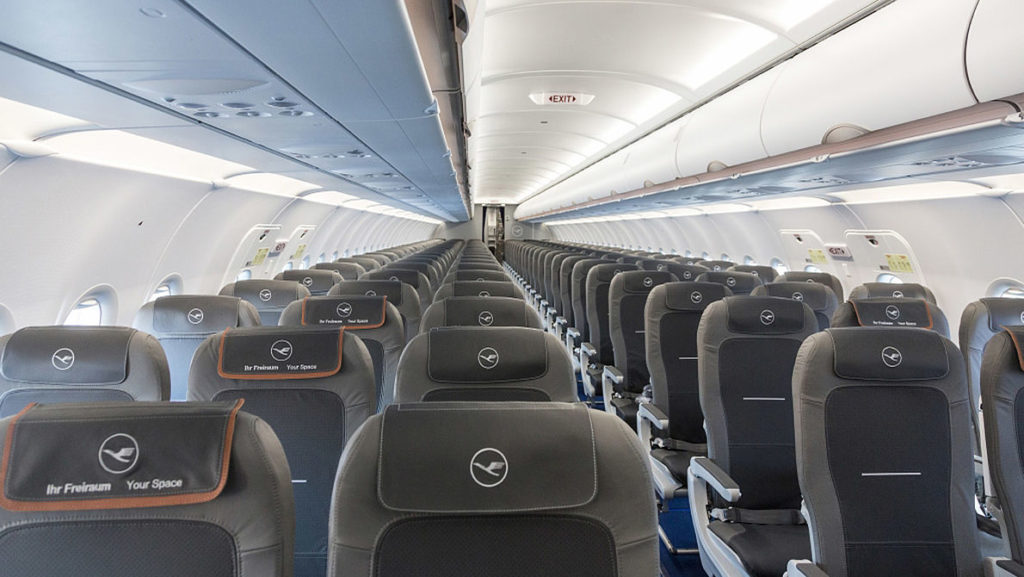 I can live without a table in the middle seat, however annoying that is. But a seat this thin, you can feel the metal bars?!? This isn't acceptable for a Mainline business class service, let alone an economy class product for flight times up to 4 hours.
BA is a step ahead here, and it shows on their NEO, especially. BA have maintained their existing standard Economy seat with generous padding and headrest in all the seats before the overwing exit. After this, they have installed ultra slimline seats which I have also experienced and can say they are better than those on Lufthansa.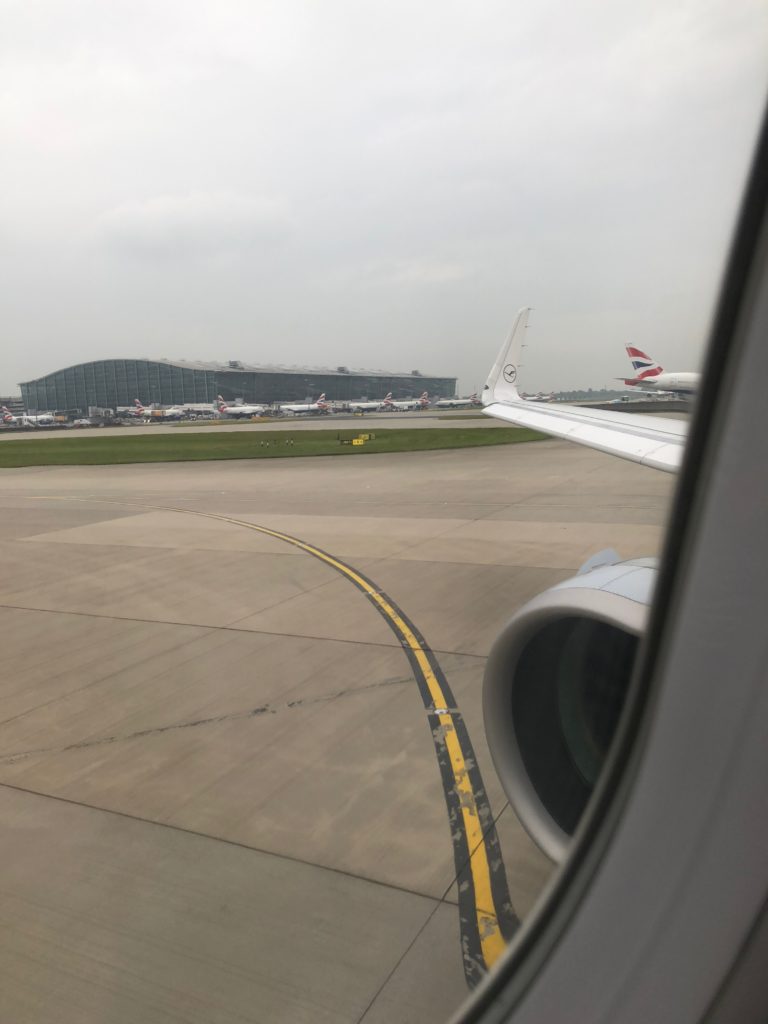 SERVICE & CATERING
The lead cabin crew who was serving business class seemed disinterested from the start and a little dry and blunt to the non-german customers, There was no pre-departure service. Once the seatbelt sign was off he promptly came through the cabin and spoke for some time to the german passengers in A, C and D, then turned to me and said, do you want to eat? I asked what the choices were, to which he replied none and dropped a tray of some strong-smelling trio of fish in front of me with an unusual green slime sauce.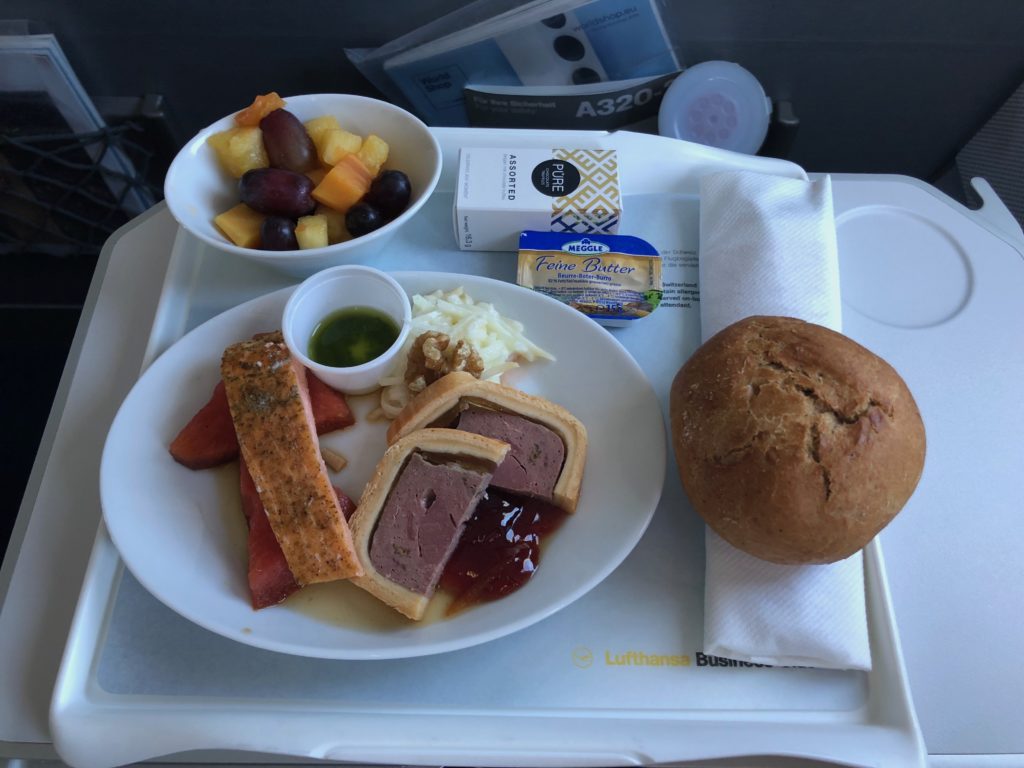 I said sorry I can't eat this "here's another bread roll" he replied and moved onto drinks, which I asked for water and champagne. Except the champagne was a horrible sweet german sparkling wine which tasted like someone thought it might be a good idea to take a dessert wine and put it through a SodaStream.
When he came back and saw I hadn't eaten anything, he offered another bread roll. I declined, and as he took away my tray, I politely mentioned that it's surprising there is no meal choice for a mainline service, or that Lufthansa doesn't provide a non-offensive protein or vegetarian option. He shrugged and said, what do you expect its a 1hr flight? To which I replied well on British Airways on the same route I get a choice of 2 meals with one being a vegetarian option. He immediately snapped back, almost shouting at me, "well this isn't British Airways! If you wanted a vegetarian meal, you should have pre-ordered one!" and he stormed off to the galley never to be seen again until just before landing.
Wow, …he was either having a bad day or is a fan of the Trio of Fish and green slime.
The only pleasure I got out of this flight was thinking how funny it was the cabin crew member was an exact doppelganger of Herr Lipp, the German teacher in the cult classic British comedy, The League of Gentlemen.
FINAL VERDICT
After arriving in the evening and experiencing the equally lacklustre Lufthansa business lounge at their flagship Frankfurt airport and a similarly abysmal flight to Istanbul, the question is, does Lufthansa deserve their Skytrax 5 star rating? Moreover, is the Skytrax rating system a reliable consumer index?
Well, from my experience of these two flights and the ground experience at both Heathrow and their flagship Frankfurt airport with a pretty extensive comparison to base against, I would rate 3/5 at best. British Airways, even Alitalia, have a better short-haul product which I would rate five stars when compared to Lufthansa Business. #sorrynotsorry!